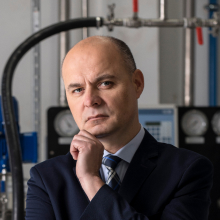 Artur Bielski
CHAIRMAN OF THE BOARD
A graduate of the Faculty of Economics at the University of Economics in Poznań, majoring in Finance and Banking, and of the Gdańsk University of Technology - Postgraduate Study of Staff Management for cooperation with EU structures.
An expert in financial and economic analysis, public procurement and aid funds. In his professional career, he was responsible, among other things, for the processes of consolidation and restructuring of business entities, optimization of costs and organizational structure of enterprises, and obtaining sources of external financing and cooperation with financial institutions.
He has been gaining professional experience since 1991 in the Bydgoszcz branch of BGŻ plc, among other things as a specialist in financial analysis and corporate restructuring, as well as credit verification.
From 2003 he worked as a financial director in the Forest Park of Culture and Recreation "MYŚLĘCINEK", and after 9 years he continued his career as the President of the Management Board of Aquapark Bydgoszcz-Myślęcinek. From 2012, for two years, he was the Vice-President of the Management Board of Kujawsko-Pomorskie Bus Transport plc.
In the years 2008-2015, apart from management functions in companies, he was the Assessor Specialist in the Managing Authority of the ROP of the Kujawsko-Pomorskie Voivodeship, assessing projects implemented with co-financing.
He started his career at Boruta-Zachem in 2014, and in April 2016 he was promoted from the position of the Head of the Finance and Accounting Department to the position of Development Director.